This op-ed ran in the January 26, 2019 issue of Le Monde.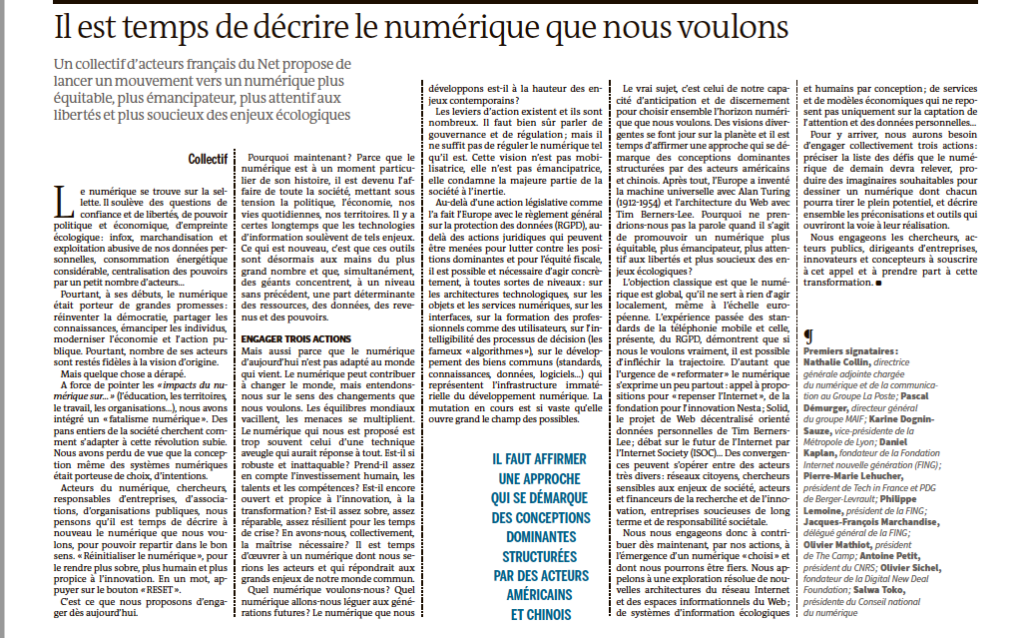 Digital is in the hot seat. It raises numerous concerns regarding trust, freedom, political and economic balance, and the environment: 'fake news', personal data merchandising and misuse, exorbitant energy consumption, significant power concentrated in the hands of a select few. . .

When these technologies emerged they held great promise. With them, we would be able to share knowledge, empower ourselves and others, reinvent democracy, power up our economies, and modernize public action.

Many have remained faithful to that vision. . . but something has gone awry.

Continually focusing on the 'impact that information and communication technologies can have on X'—be it education, states and territories, work, or organizations—has lulled us into a kind of 'digital fatalism'. Many sectors in human societies are still trying to adapt to 'digital revolutions' they had no say in. What we forget is that the design of our digital systems is an expression of choices and intentions.

We are actors from across the digital sphere, researchers, and managers in the public, private and nonprofit sectors: we believe it is time to reinvent the digital environment, and plot a better course for its future. Let's 'restart the digital' to make it more sustainable, more humane and more conducive to truly beneficial innovation.

In a nutshell, what we are proposing today is to press the 'RESET' button on the design of our digital world.

Why now? Because we have reached a critical moment in the evolution of the digital age: its issues affect all of us, and are putting political systems, economies, territories and our everyday lives under pressure. Information technologies have long been a cause for debate. But now the majority of humankind has access to digital tools, while at the same time, convergence on an unprecedented scale has concentrated vast amounts of resources, data, revenue and power in the hands of a few global giants. And there is another reason: because today's digital infrastructure does not fit with what our future holds in store. True, information technologies can change the world—but we had better explicitly define the direction of those changes. One thing we can be certain of is uncertainty: global equilibrium is faltering, and threats are multiplying. Too often, the digital technologies proffered to us are portrayed as a panacea for all that ails us. But is our digital world really that robust? that unassailable? Does it take human investment, talents and skills sufficiently into account? Is it still open and conducive to innovation and transformation? Is it frugal, repairable and resilient enough to survive in times of crisis? Do we, collectively, have the necessary mastery of it? It is time to work towards a digital society we can all play a part in, and that can address the complex challenges of our common existence going forward.

What kind of digital world do we want? What will we bequeath to future generations? Is the digital technology that we are developing equal to the challenges we face?

There are many possible courses of action. Naturally, we must rethink digital governance and regulation, but regulating digital in its current shape is unlikely to achieve much. Doing so will also fail to engage society, leaving matters in the hands of specialists.

Beyond legislative protections such as Europe's GDPR, or legal actions against anticompetitive behaviours or in favor of tax fairness, many areas are ripe for concrete action: technological architectures, digital devices and services, interfaces, user and professional education, decision-making process ('algorithms') transparency, and the development of the commons (standards, knowledge, data, software, etc.) that comprise information technology's intangible infrastructure. Because the changes at hand are so vast, the range of possible alternatives is considerable.

What is really at stake is our ability to anticipate and discern together the digital future we want. Divergent visions are emerging across the planet—it is time for Europe to assert an approach that is distinct from paradigms developed by American and Chinese actors. After all, one European (Alan Turing) gave the world the universal machine, and another (Tim Berners-Lee) gave it the Web. Where is Europe's voice when it comes to promoting a digital world that is fairer, more empowering, more attentive to freedoms and more concerned with environmental issues?

The classic objection is that the digital world is global, so it is useless to act locally, or even on a European scale. But Europe's experience with mobile telephony standards and with the GDPR proves that if we really want to, we can impact the trajectory of digital technology implementation and development. Especially at this juncture in history, when an urge to 'reformat' the digital is blossoming elsewhere: the UK's Nesta has called for pitches to 'rethink the Internet'; Tim Berners-Lee is working on Solid, a decentralized personal data web project; and the Internet Society is debating the future of the Internet itself. . . Convergence can take place among highly diverse actors: citizen networks, concerned researchers, research and innovation actors and financiers, and any organization concerned with the longer term and their social responsibility.
We are committed from this moment forward, in word and deed, to enabling the emergence of an 'intentional' digital world that we can be proud of. We call for the purposeful exploration of novel Internet network architectures and web information spaces; the development of ecological and human information systems by design; and the creation of service and business models that do not rely solely on capturing individuals' attention and personal data. . .

To achieve this, there are three initiatives we must undertake collectively: create a list of the challenges that tomorrow's digital must rise up to; produce desirable narratives describing a digital world where everyone derives maximum value, and outline the recommendations and tools required if we are to make those imaginaries a reality.

We urge researchers, public actors, business leaders, innovators and designers to answer this call and take part in writing the recipe for 'RESET'!

First signatories: Nathalie Collin (Deputy Director General in charge of Information and Communication Technologies, Le Groupe La Poste), Pascal Démurger (Director General, MAIF Group), Karine Dognin-Sauze (Vice President, City of Lyon), Daniel Kaplan (Founder, Fing), Pierre-Marie Lehucher (President, Tech in France; CEO, Berger-Levrault), Philippe Lemoine (President, Fing), Jacques-François Marchandise (Executive Officer, Fing), Olivier Mathiot (President, The Camp), Antoine Petit (President, CNRS), Olivier Sichel (Founder, Digital New Deal Foundation), Salwa Toko (President, CNNum).

Click here for the complete list of first signatories.
Join them! Simply fill in the form below.
---
About Reset
A collaborative initiative driven by Fing
We are all captivated by the potential of the digital . . . and sometimes terrified by it. Many are seeking to create new meaning in and for the digital world—among them GAFAM repenters, privacy advocates, critical thinkers and others concerned about sustainable development, greater inclusion and corporate social responsibility..

Good intentions won't help us face the complex challenges that we must formulate and explore. Empty rhetoric is not enough to generate a shared vision of the digital, and identify the ways we might make that vision a reality. RESET will use the tools of foresight to imagine and give substance to a digital world that focuses on doing better, rather than more
Escape digital fatalism and define the kind of digital world we want
The digital revolution still holds great promise. But for a large portion of society, it also means compliance with a new dogma. We hear daily about the 'impacts' of digital technologies on work, cities and territories, media, education, and so on – as if 'digital' had a will of its own. The time has come for us to formulate our intentions, and to explicitly define the impact we want society to have on digital, so we can carve out wider spaces of political, economic and social choice for all.
Can we alter the course of the digital revolution? The RESET challenge(s)
In mid-2018, Tim Berners-Lee—the man who invented the World Wide Web—took a look back at the past 30 years of its history. He concluded that it has 'failed instead of served humanity', and, ultimately, has produced 'a large-scale emergent phenomenon which is anti-human.' For Berners-Lee, as for many others, it is time to hit the 'RESET' button on the design of our digital world.

There are many challenges ahead. Some are technical, others societal, still others intertwined. They concern rights and freedoms, shared value, respect for the environment, open innovation, mastery of AI and algorithms, human development and balance between the Global North and South.

In the months to come, the RESET initiative will :
create a list of the challenges that tomorrow's digital must rise up to,
produce desirable narratives describing a digital world where everyone derives maximum value,
formulate the impact(s) we want society to have on the digital world, and
outline the recommendations and tools required to make those imaginaries a reality.
If you would like to become a RESET partner, don't hesitate to contact us for more information: : reset[[at]]fing.org.